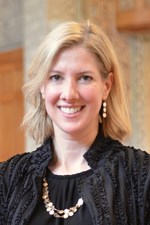 Stephanie Carlson, Ph.D., a professor in the Institute of Child Development, was interviewed by Chalkbeat Colorado about the importance of executive function.
Executive function refers to a set of skills that helps individuals pay attention, control impulses and think flexibly. During the interview, Carlson explained how executive function is related to the achievement gap and offered suggestions for how parents, educators and policymakers can help children develop the skills they need to succeed in the classroom.
"Difficulties with executive function really set kids up to fail in school," Carlson said, later adding, "I would like to encourage educators and parents to get involved in these issues. There's no powerless figure: 'There's nothing I can do for my class or for my child that's going to make any difference.' You really can and it's a collective form of empowerment."
Learn more about Carlson's research and her start-up Reflection Sciences.