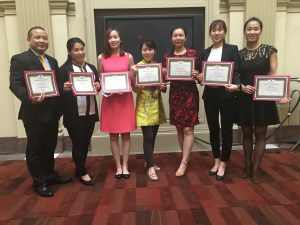 Participants in the third annual China Champions Program (CCP) were celebrated at their Graduation Celebration on Friday, April 28, at Burton Hall Atrium.
Six Chinese Olympic and world champion athletes and a coach enrolled in the China Champions Program (CCP) arrived last fall to attend specially designed courses in the School of Kinesiology. CCP provides academic courses, seminars, workshops and English as a Second Language (ESL) classes to accomplished athletes from China as a collaborative educational project with Beijing Sport University (BSU).
This year's participants, the third class since 2014, enjoyed a wide range of educational, cultural and social activities in addition to their formal courses, such as meeting former Vice President Walter Mondale at Regent Peggy Lucas' home, attending all major sporting events at UMN and in the Twin Cities area, and visiting local schools to share their experiences with students.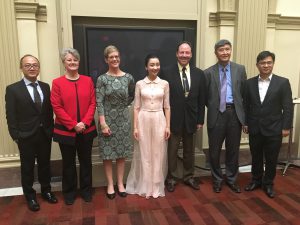 At the celebration, Ms. Maud Meng, President and CEO of Infinite Media Co. Ltd. in China, presented the University of Minnesota Foundation with a gift of $100,000 to benefit the CCP. Kinesiology Director Li Li Ji met with Ms. Meng on a recent trip to China and shared the CCP's mission and goals. "Ms. Meng pledged to provide financial support to the CCP to expand the participants' careers and to share their skills and experiences with Chinese society," said Ji.  Ms. Meng's generous support also helps to advance University, CEHD and School of Kinesiology international initiatives.
Participants in this year's China Champions Program were: Lu Xiudong, national taekwondo coach and professor at BSU; Chunlu Wang,  Xue Kong and Lin Meng, all short track speed skating Olympic gold medalists; Haixia Liu, World Champion and record holder for weightlifting; Di Mu, World Champion in bicycling; and Ziyi Wang, World Champion in sailboating.