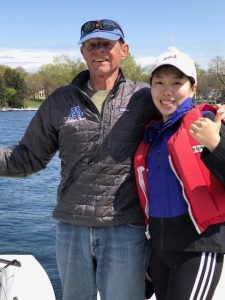 Ms. Ziyi Wang, participant in the 2016-17 China Champions Program (CCP) and World Champion in sailboating, spent the afternoon of May 3 enjoying her sport at the Minnetonka Yacht Club. As a bonus, she had the chance to meet and sail with U.S. National and Olympic sailing coach Gordy Bowers, who is currently head coach of the Lake Minnetonka Sailing School, and Peter Wattson, president of the Minnetonka Yacht Club.
Ms. Wang was accompanied by Ms. Chunlu Wang, Olympic gold medalist in short track speed skating, and Ms. Jill Griffiths, a member of the CCP advisory board. The group also spent time sailing and interacting with high school students from the sailing school.
The China Champions Program is sponsored by the University's School of Kinesiology, the College of Education and Human Development and the China Center.