Solidifying the ongoing partnership with STEM education scholars in Japan, former and current members of the Department of Curriculum and Instruction presented at the Japanese Society of Science Education (JSSE) annual meeting in Takamatsu, Japan. JSSE has expanded its research in recent years to address the lack of interest in STEM fields among students in a world transitioning to a technology-based culture.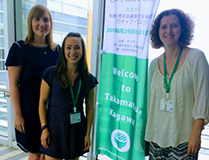 Professor Gillian Roerhig was invited to present on approaches to improving STEM education, policy, and professional development. In addition, Ph.D. in STEM education candidate Jeanna Wieselmann and alumnus Emily Dare '17, now an assistant professor at Michigan Technical Institute, presented on gender equity in STEM education.
The group will continue to forge a partnership with colleagues in Japan to advance STEM engagement and equity for all learners.
Learn more about the Ph.D. program in STEM education in the Department of Curriculum and Instruction.
See departmental research expertise in STEM education.