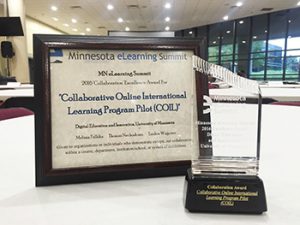 Digital Education and Innovation (DEI) was recognized at the 2016 Minnesota eLearning Summit Excellence Awards. Melissa Falldin, Thomas Nechodomu, and Treden Wagoner were awarded in the collaboration category for their work on the Collaborative Online International Learning (COIL) Pilot. The collaboration award is given to organizations or individuals who demonstrate exceptional collaboration within a course, department, institution, or system.
The DEI team worked with CEHD's International Initiatives and the University's Global Strategies and Program Alliance and Center for Education Innovation to develop the two-year pilot. The pilot is an opportunity for CEHD instructors to integrate a new teaching model that gives their students international experience. The pilot also seeks to establish and document best practices for course development using the COIL model and related faculty development. DEI has developed a COIL workbook for faculty partners and is available for anyone interested in COIL.
The workbook is available for download from the team's web site.