We were pleased on this day to co-host a collaborative event with Minneapolis Public Schools, the Twin Cities Teacher Collaborative of private universities (Augsburg, Bethel, Concordia-St. Paul, Hamline, St. Catherine, and St. Thomas), the Urban Leadership Academy, and the Value-Added Research Center.
Over 135 people attended the event. We:
heard from national and regional experts about teacher evaluation across the professional continuum
learned about teacher evaluation in the context of school-university partnerships
deepened our understanding of supports for probationary teachers in Minneapolis Public Schools (MPS)
learned from MPS and Institutions of Higher Education (IHE) data sharing
discussed probationary teacher successes and challenges informing teacher preparation
A cross-representative data team with members from MPS district and university partners worked together to provide data for all to review.
Minneapolis Public Schools presented aggregated and de-identified data from their comprehensive teacher evaluation system, including draft reports generated from the following assessments:
Standards of Effective Instruction (SOEI) observations results
P-12 Student Survey results
Value Added results
Institutions of Higher Education (IHE) Teacher Preparation presented aggregated and de-identified draft reports with aggregated data from the Common Metrics, surveys used by NExT institutions to collect information from students at entry, exit, and one year after employment.
The Value-Added Research Center also presented reports to each district partner for review.
Participants heard directly from Human Resource administrators, economists, principals, school-university liaisons, partnership coordinators, university faculty, first year teachers, and district mentors. It was an event not to be missed! See agenda.pdf
Bernadeia Johnson, Superintendent of Minneapolis Public Schools, welcomed nearly 135 participants to the May 17, 2013 Creating a Culture of Evidence: Data Sharing in School-University Partnerships Event.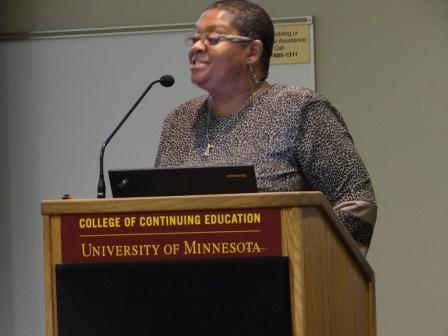 Linda Darling-Hammond, Charles Ducommun Professor of Education &
Co-Director School Redesign Network (SRN), presented on Teacher Evaluation Across the Professional Continuum: Building Systems that Support Professional Growth and Leadership.