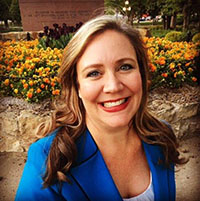 Julie Koch, 2008 alumna of the Department of Educational Psychology's counseling and student personnel psychology (CSPP) Ph.D. program, is one of this year's recipients of the College of Education and Human Development (CEHD) Rising Star Award.
Since graduation, Julie has been a faculty member at Oklahoma State University. Today, she is an associate professor and interim head of the School of Applied Health and Educational Psychology, a newly formed department that includes counseling, counseling psychology, health education, and public health. Her research interests include: microaffirmation, faculty multicultural competence, counselor development and training, issues related to diverse populations, and prevention in school settings.
The Rising Alumni award goes to CEHD alumni who have achieved early distinction in their career (15 years or less since graduation), demonstrated outstanding leadership, or shown exceptional volunteer services in their community.
"Julie is definitely a Rising Star," says Thomas Skovohlt, professor in the Department of Educational Psychology's CSPP program. "She is unusually gifted at management and administration, and it is easy to see her as a university president in the years ahead."