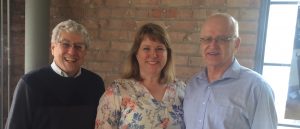 Counseling and Student Personnel Psychology alumni, Jonina Olafsdottir Kardal, was a recent recipient of CEHD's 2016 Rising Alumni award.
Jonina grew up in St. Paul and participated in an Icelandic community with her parents who were both originally from Iceland. She grew up in an academic atmosphere where education was valued and a professor was greatly admired. This upbringing helped shape Jonina's interest in education and counseling. She graduated from the University of Iceland in 1995 and was interested in obtaining her MA degree in counseling. Through a connection, she applied to the University of Minnesota's CSPP program and was accepted.
Jonina immediately utilized every opportunity to gain more experience in the workplace through research and internship opportunities. She completed her practicum at the University of Minnesota Counseling and Student Services and did work with a learning center, too. She commends the professionalism and dedication of the staff that she had the opportunity to work with and noted that she keeps this in mind in her own work.
Upon graduation from the CSPP program, Jonina was offered a position at the University of Iceland in the Student Counseling and Career Centre. She began working right after graduation in August 1999 and holds a position currently with the center. When she began, there were about 5,500 students and she works with about 14,000 students today. Her work involves the development of the center by increasing services for students to assist them in meeting their educational and career goals. The center hosts various services, including: walk-in hours, book appointments, workshops, lunch bag sessions, career-based workshops, courses on academic goals and effective study skills.
Jonina admits that it was a "dream come true to study at the University of Minnesota" in the CSPP program and it formed her vision for a post-graduation career in counseling. Jonina considers her time at the U of M as one of the greatest times in her life and an immense pleasure to be a part of the CSPP program.