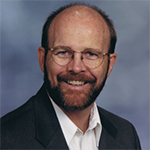 Dr. Blaine Fowers, a 1983 alumnus of the Department of Educational Psychology's Counseling & Student Personnel Psychology (CSPP) M.A. program was recently awarded the Joseph B. Gittler Award, a premier award from the American Psychological Foundation. The annual award, which includes a $7,500 honorarium, honors theoretical psychologists who question the basic assumptions most psychologists take for granted.
"The Gittler award is an honor to receive because it is the premier award given to recognize work on the philosophical foundations of psychology in North America," said Fowers. "The importance of the award was indicated by its first two awardees, Jerome Bruner and Daniel Kahneman (who also won a Nobel Prize), two giants in psychology."
Fowers' work helps to illuminate fundamental assumptions underlying psychological thinking. Currently, he teaches as a tenured professor at the University of Miami. Learn more.