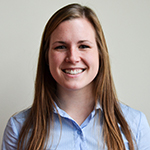 Abigail (Abby) Buuck, M.A. student in the Department of Educational Psychology counseling and personnel psychology program was selected as the Minnesota School Counselor Association  (MSCA) Potential School Counselor of the Year Award.
Buuck was selected from graduate students across the state for having the most potential as a school counselor. For three years in a row, students from the CSPP program have been selected for this award.
Marguerite Ohrtman, director of school counseling, presented the award to Buuck at the MSCA Conference this May.
Winners of the Potential School Counselor of the Year Award receive a $500 scholarship. Applicants are required to submit their resume, transcripts, statement of professional goals, and a letter of recommendation, in addition to the application form.