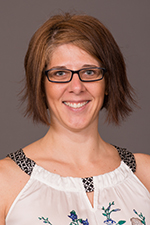 What teacher most impacted you? For recent Pomegranate Prize recipient Rachel Harari, it was Rose Vukovic. When Harari was an undergraduate English honors student at New York University, she approached Vukovic, an assistant professor at NYU at the time, hoping to learn about students with learning disabilities. Vukovic challenged Harari to stretch herself beyond simply learning about the topic and, instead, to find a way to contribute to it. As a result, the two worked together to publish a study on mathematics anxiety in young children. Vukovic says it's this kind of collaboration that brought her to Minnesota to be the director of undergraduate studies in the Department of Educational Psychology.
Upon receiving their awards, Pomegranate Prize winners were encouraged to create a 20-second video thanking their most influential teacher. Harari, now the department chair and an English teacher at Magen David Yeshivah High School in Brooklyn, NY, thanked Vukovic in a video saying, "I wanted to thank Rose Vukovic, my professor at NYU, for showing me that it's not enough to just have an idea. That you have to actually make it happen. Thanks for everything you've done for me, Rose." Watch her video.
The Pomegranate Prize honors rising leaders who have been in the field of Jewish education for up to ten years. The award is given by the Covenant Foundation which honors outstanding Jewish educators and supports creative approaches to programming. The Foundation works to strengthen educational endeavors that perpetuate the identity, continuity and heritage of the Jewish people.