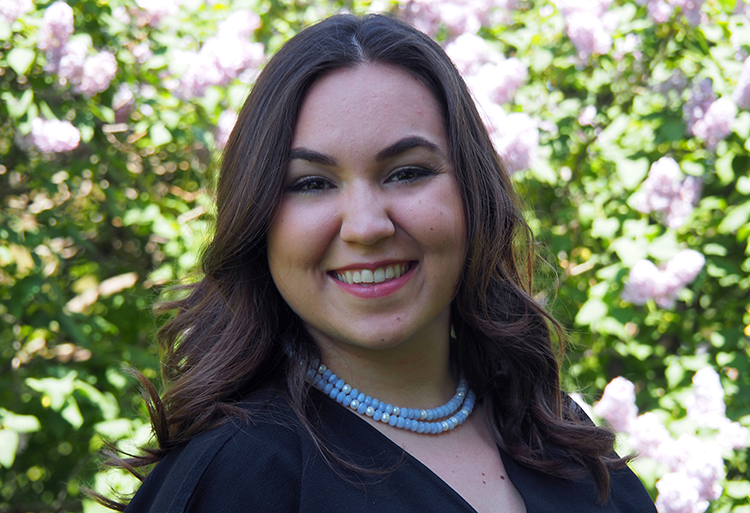 Rose Simon just graduated in May but she's eager to return to campus to help kick off the new academic year as she delivers the address at the University's new student convocation, Thursday, Aug. 31.
Simon is using her experience as a peer mentor in the University of Minnesota President's Emerging Scholars (PES) program in her new job at College Possible, a non-profit organization that serves low income high school students in preparing for college. She will be a mentor in College Possible's new program, Fostering Graduates, that focuses on supporting students in the foster care system. She will be helping students overcome the unique challenges presented by the foster care system with skill development to enter college and the confidence they need to attain their degree.
"My past experience as a mentor with PES was a great opportunity for me to see the diverse barriers students have overcome that are often unrecognized as accomplishments in the higher education system," says Simon. "My goal and passion is to create an environment where neighborhoods, cultures and individuals feel that they belong in college."
Simon's undergraduate career included an internship in France during her junior year and one with the City of Hopkins' One Voice Coalition where she put her Family Social Science classroom work to the real world test.
The city wanted to focus energy on healthy youth development by working on alcohol and drug prevention programs," she says. "I worked with parents and community members to help create and execute family events and programs that support students and parents."
She credits her College of Education and Human Development advisors and Family Social Science professors for supporting and inspiring her throughout her academic career. She's looking forward to sharing her experience at this year's convocation and reminds incoming freshman that the anxiety they may be experiencing is all part of growing up.
"Remember how when you move from elementary school to middle school you worry about finding your locker and classes in time before the bell rings? Then in high school you were stressed about navigating that huge school and finding your niche? Whether high school was the best four years of your life, or you barely made it through… you've finally made it to the U of M, so congrats! You've arrived at your next chapter in life and boy are you in for a treat!"
And she reminds students that not only are they a college student, they are now among the Golden Gophers!