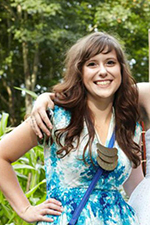 Angela Fenoglio, a Ph.D. candidate in the Institute of Child Development (ICD), recently received an award from the College of Education and Human Development's Women's Philanthropic Leadership Circle (WPLC).
Founded in 2002, WPLC aims to raise visibility of women leaders in education and human development and provide financial support to women in educational leadership positions. Each year, WPLC makes several awards of up to $2,500 to graduate students to honor their achievement and leadership.
Fenoglio is currently a doctoral candidate working with ICD faculty Jed Elison, Ph.D., and Michael Georgieff, M.D. Her research focuses on the development of the "social brain." In her work, she examines how atypical early experiences, such as premature birth, might affect the development of brain circuits involved in social skills like following a caregiver's gaze or thinking about the beliefs and desires of others. The long-term goal of her research is to contribute to strategic prevention and intervention in pre-term infants and other populations at an increased risk of mental illness.