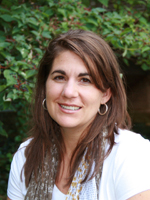 Department of Family Social Science graduate student Jennifer Doty received the Ruth Hathaway Jewson Award from the National Council on Family Relations for the 2014-15 academic year.
This award funds the best family studies dissertation proposal submitted by a doctoral candidate. Doty's proposal "Intergenerational relationships across the life course: Links with adolescent depression and self-esteem" was selected from the group of proposals to receive the $900 award.
Learn more about Doty's research interests and agenda on her profile page.