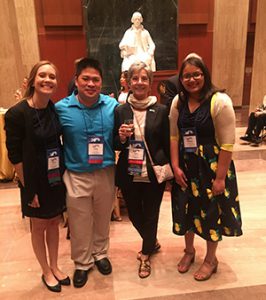 The FSOS group in front of a statue of James Madison, at the Library of Congress. From left to right: Sarah Burcher, Dung Mao, Joyce Serido, and Veronica Deenanath.
In early June, several graduate students and one faculty member represented FSOS at the annual American Council on Consumer Interests (ACCI) conference in Arlington, Virginia.
The group of graduate students included Sarah Burcher, Dung Mao, and Veronica Deenanath. FSOS faculty member and ACCI president Joyce Serido also attended the conference.
The graduate students presented on the following research:
Sarah Burcher, " "The Financial Behavior of Low-Income and Ethnically Diverse First-Year College Students: The Power of Parenting and Self-Beliefs"
Dung Mao, "Young Adults' Financial Behavior, Financial Values, and Relationship Satisfaction: Do Perceptions of Partner's Behavior or Shared Financial Values Matter?"
Veronica Deenanath, "High School Students' Financial Behavior: The Role of Decision Context, and Access to Money"
Burcher also received a scholarship.
The group also attended a celebration at the Library of Congress for the 50th anniversary of the Journal of Consumer Affairs (JOCA), the academic journal published by the ACCI.