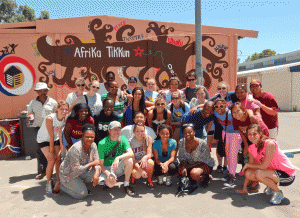 Since 2010, Nate Whittaker, an academic adviser in CEHD's TRiO student support services, has taught a global seminar in South Africa over winter break. Students learn about social justice firsthand by participating in service learning at South African youth organizations. Each year Whittaker publishes a book of photographs and narratives documenting the students' experiences. The 2012-13 book is now available, and Whittaker has created a website for the students' digital stories.
Along with service learning and excursions in and around Cape Town, the course incorporates significant time for reflection through evening talking-circles, journals, and a class blog. Feedback from students has been consistently positive, with many expressing that the trip is a life-changing experience.
Details on the 2013-14 seminar are posted on the Learning Abroad Center website.