The freshman seminar, "Go Outside and Play!" (REC 1905), recently visited Eastcliff (home to President and Mrs. Kaler) via a nine-mile journey on Nice Ride bicycles.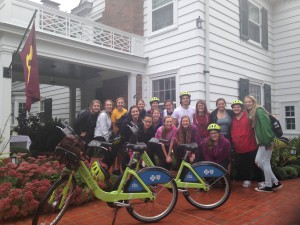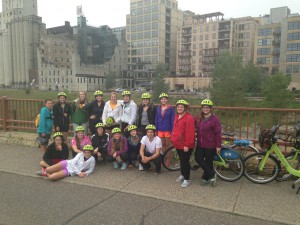 Nice Ride provides this group of freshmen a one-year membership to the bike share program as these students go out and explore the Twin Cities.
Before stopping at Eastcliff for a tour from Mrs. Kaler, the class explored Minneapolis and St. Paul, traveling on the East and West River Road Parkways, the Midtown Greenway, and the Hiawatha Trail. While on their ride, they passed the new US Bank Stadium, Gold Medal Park, the Guthrie, the Mill City Museum, and the Stone Arch Bridge before coming back to campus.
Go Outside and Play! (Freshman Seminar) is designed to introduce University of Minnesota students to the great outdoors! Within the Twin Cities, outstanding agencies and numerous local, state, and national parks provide tremendous resources for community engagement and enrichment right in our backyard.
Through hiking, biking, standup paddleboarding, canoeing, and even a little apple smear in the rain, students learn numerous ways to incorporate healthy, fun, and life-long activities into their lives while understanding the importance of advocating for sustainable natural and environmental resources.