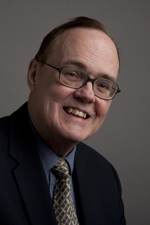 David Hollister, professor in the School of Social Work, is one of 12 people at the U of M to be awarded the 2016 President's Award for Outstanding Service. The award recognizes exceptional service to the University, its schools, colleges, departments, and service units by any active or retired faculty or staff member. Recipients of this award have gone well beyond their regular duties and have demonstrated an unusual commitment to the University community.
Hollister's research and teaching has focused on immigrant and refugee resettlement and on international social work and social development. He has received the Distinguished Alumnus Award from the University of Michigan School of Social Work and the Lifetime Achievement Award from the Minnesota Chapter of the National Association of Social Workers.
Hollister will retire in August 2016 after 50 years as a faculty member, 45 at the U of M.  In 1971 he helped form a new social work school organized around the concept of social development at University of Minnesota Duluth. Along with colleagues from five universities, he helped establish the International Consortium for Social Development, now in its 42nd year. In 1980 he came to the Twin Cities as a full professor. He served as director of the School of Social Work from 1983 to 1991 and also as director of graduate studies and Ph.D. program chair.