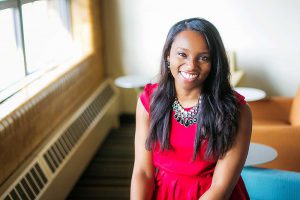 Michelle Brown, a third year doctoral student at the Institute of Child Development, was featured in the University of Minnesota's Driven to Discover campaign for her research on childhood adversity and resilience.
Experiencing negative events and living in a high-stress environment can inhibit a child's brain development and lead to negative health consequences later in life. Through her research, Brown aims to uncover the factors that may help children overcome adversity and lead to positive long-term outcomes.
Brown is especially interested in research centered around children and their families. "Working with the entire family really opened my eyes to see why kids were acting in certain ways," Brown says.
One of her goals is to inform researchers, advocates, and social support networks about the tools they can use to help victimized children and adolescents. "The experience that you have in childhood doesn't have to define you for the rest of your life. You can overcome it, and you can emerge resilient," Brown says.
Learn more about Brown's work.