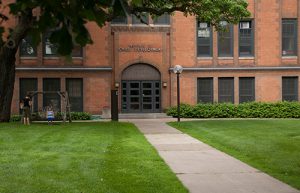 The developmental psychology program in the Institute of Child Development (ICD) is #1 in the country,  according to the 2018 U.S. News and World Report rankings of graduate schools.
Founded in 1925, ICD is one of the oldest departments studying children's development in the country. The Institute contributes to interdisciplinary programs in interpersonal relationships, prevention science, and infant and early childhood mental health. It also contributes groundbreaking research to the field of child development, including on topics related to executive function, resilience and autism.
Learn more about ICD's top-rated graduate program.
To determine the rankings, U.S. News surveyed 379 schools granting education doctoral degrees. It calculates rankings based on quality assessments from peer institutions and school superintendents nationwide, student selectivity, and faculty research and resources, which includes student/faculty ratio and faculty awards as well as support for research.
Other College of Education and Human Development programs that were top-ranked in this year's report include special education, which ranked #8, and educational psychology, which ranked #9.
"Our college continues to reach new heights of excellence in graduate teaching, research, and outreach," said Dean Jean K. Quam. "We are focused on improving the lives of students across Minnesota, the nation, and the world."