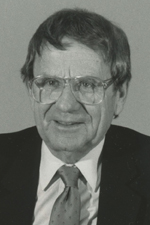 Clifford Hooker, professor emeritus and a national expert in school law, passed away on November 15, 2016, in St. Paul at the age of 96. Hooker was known as a master teacher, mentoring students and fostering internships, always engaged in the community and statewide. He authored The Courts and Education published in 1978 and conceived of—then served 30 years as the chair of the editorial advisory committee for—West's Education Law Reporter.
Professor Hooker was born in Illinois, the son of a sharecropper and a mother who ensured he was able to attend the local one-room school. As valedictorian of McClure High School's class of '38, he received free tuition to attend teachers college. He graduated and married his first wife, Avelyn, in 1941, before serving in the Navy aboard the USS Massachusetts in the Pacific. In the post-war years their children Sherrill and Donn were born, and he worked in Illinois public education as a shop teacher, principal, and superintendent. He completed his Ed.D. at Indiana University in 1955 and a postdoctoral fellowship at Columbia University before taking his first academic position at the University of Pittsburgh.
In 1958, Clifford Hooker joined the U of M faculty, from 1964 to 1972 chairing the Department of Educational Administration, which would become what is now the Department of Organizational Leadership, Policy, and Development (OLPD). He founded the Educational Administration doctoral track and was influential in a 1965 restructuring of the college that reduced hierarchy and fostered faculty participation in decision-making. He also helped to found the Midwest Council for Educational Administration in 1971 in response to changes in licensing requirements for Minnesota school administrators. MCEA included higher education institutions from North and South Dakota, Wisconsin, Iowa, Manitoba, and Minnesota.
Professor Hooker was active in many sports before it was popular to stay fit, including biking, tennis, jogging, barefoot waterskiing, golfing, and downhill skiing. He designed and built a cabin on Pelican Lake in 1965 and shared it for departmental retreats. He also got his colleagues to join him in canoeing in the boundary waters. Officially retiring in 1991, he remained active in the field, consulting widely and supporting educational leadership.
He is survived by his wife, Leslie Gerstman, their daughter Sarah, and two grandchildren.
Gifts in memory of Professor Clifford Hooker may be made to the Educational Evaluation and Policy Studies Fellowship, Fund #6027, University of Minnesota Foundation.