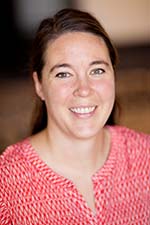 Annie Hansen-Burke realized her interest in supporting students when she was in high school. She pursued degrees in social work and psychology at Briar Cliff University, and wasn't sure which path she would pursue. During her senior year, she reflected on her interests.
"I wanted to know how I could help make sure kids were not falling through the cracks, give support to those that were at risk for not completing school, and create a welcoming, healthy school climate. When I did an online search for those interests, school psychology kept coming up.," Hansen-Burke says.
Her search for school psychology programs led her to the University of Minnesota to earn her Ph.D. At the time, Sandra Christenson was working with Check and Connect, an intervention program used with K-12 students who show warning signs of disengagement with school and who are at risk of dropping out.
"I came to the University of Minnesota largely because of Dr. Christenson. One of the elements [of her work] that appealed to me was building relationships with kids and removing barriers for them to be able to complete school."
Now, Hansen-Burke aims to be a role model for other students. She teaches classes and coordinates fieldwork for the school psychology program.
"Working with graduate students is amazing. They bring so much energy into their work, and the level of commitment and creativity I see from them is inspiring. As a supervisor, it keeps me on top of my game because I have to be a good role model for them."
She continues, "I'm also excited about the intellectual environment in this field. The amount that there is to know—what currently exists and what hasn't been discovered—is thrilling to me. My learning curve has never really flattened out."
One of Hansen-Burke's current projects is with School Psychology Embedded Teams, working to solve the challenge of bringing school psychologists to fill the need in our school systems, while giving students the experience they need to graduate under APA guidelines.
The embedded teams model allows students to participate multi-tiered systems of support (MTSS), a model of practice that relies on multiple tiers of instruction that work together to prevent school failure. MTSS includes assessments, evidence-based instruction, interventions, and data-based decision making.
As an alumna and instructor of the school psychology program, Hansen-Burke wants prospective students to know how they can benefit from the University of Minnesota.
"We pride ourselves on being thought leaders in the field of school psychology, and the faculty is awesome. They're young, productive, and creative researchers. It's exciting to be in this environment, both as a co-worker and a student."
She adds, "Our dual emphasis on research-based practice and MTSS is our calling card. For people who value research and want to change systemic outcomes for kids, this is where you want to be doing it."
Outside of school psychology, Annie considers herself a podcast aficionado and listens to about 30 different podcasts. She also has 5-year-old twins (boy and girl) who keep her busy.