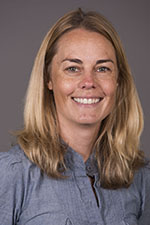 Kelli Howard took an interest in psychology at an early age. "I was always fascinated by people and relationships—why we do what we do or how we become what we become. I figured I'd go into psychology of some kind."
Howard was a tennis player in college, and it was her coach, a professor of physical education, who first inspired her to think about pursuing her doctorate. "Getting a Ph.D. was not a path many women in my life had taken. I loved her enthusiasm and passion for working with the group she had chosen to help. I began to consider how my undergraduate degree in psychology might provide opportunities for me to find my place helping others as well."
Initially interested in studying forensic psychology, Howard went to work for a jury consulting firm after completing her undergraduate degree. "The more work I did in forensics," she says, "the more I realized I didn't want to focus my work on such a tiny percentage of the population. I became more excited about helping people with their every day concerns—grief, trauma, loss and things that are more common."
Howard began to carve out a path for herself, working in a number of different "helper" jobs, including: career counselor and coach, crisis counselor, and counselor for survivors of human trafficking. At the same time, she completed her M.E.d in postsecondary administration and student affairs and, later, began pursuing her Ph.D. in counseling psychology and conducting research on topics related to schools and mental health.
"At the time it all felt hodgepodge," she says, "but it was all kind of leading me here—just in a circuitous route."
Howard recently graduated with her Ph.D. in counseling psychology through the College of Liberal Arts. She did her dissertation on designing and evaluating online counseling programs for college students without access to such tools.
"Anxiety and depression are common ailments for college students. However, they often don't get the counseling they need for a number of reasons: the perceived time it takes, lack of convenient options, and increasingly long wait times to see someone," she explains. "We delivered an intervention in the classroom and tested how it impacted students' emotions and academic performance."
Last fall, Howard began teaching master's students in our counseling and student personnel psychology program, starting with the Introductory Skills and Theories and Practicum Supervision courses. This spring, she's once again teaching the Practicum Supervision course as well as Clients in Crisis and Assessment and Counseling Clients with Psychological Disorders.
When asked what she likes most about her new role. Howard says, "I love it all. I'm helping students pursue something that's meaningful for them and does a service for the world." She continues, "Helping students find their place and developing their careers is such a privilege."