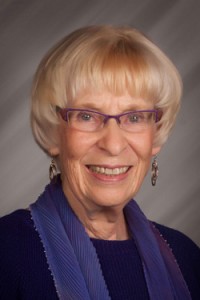 Best known for writing the seminal books on parenting, Jean Illsley Clarke, an internationally recognized family studies scholar and educator, influenced generations of parents. To honor her achievements, the University of Minnesota will award Clarke with an honorary Doctor of Laws degree at 5 p.m. on Oct. 15 at a special ceremony in the Upson Room of Walter Library, 117 Pleasant St. S.E., Minneapolis.
A 1948 graduate of the University of Minnesota (B.S. in home economics education, cum laude), Clarke has had a long and distinguished career focusing on ways to help parents raise likable, self-sufficient and respectful children. She is the author of Self-Esteem: A Family Affair and How Much Is Enough? Among her list of honors and accomplishments: winner of the Eric Berne Memorial Award in Transactional Analysis, 1995; a Lifetime Achievement Award from the Northwest Parenting and Family Education Conference, 2008; alumni awards from the University of Minnesota College of Human Ecology, 1999, and College of Education and Human Development (CEHD), 2001; leadership positions on the National Council on Family Relations and the Minnesota Council on Family Relations; and honoree on the U of M's Wall of Discovery Scholars Walk.
Self-Esteem: A Family Affair is second only to Dr. Spock's as the most influential parenting advice book. Clarke's research and counseling, documented in her 20+ books, have been described as imaginative and practical.
"Jean Clarke is an expert on overindulgence, self-esteem, parenting, human development, group dynamics, and Transactional Analysis," said CEHD Dean Jean Quam. "She deserves this honor for her many contributions to the disciplines of family and parent education, and for translating that work to improve families and communities around the world."
Clarke has an M.A. from St. Mary's College in Winona and has been an adjunct faculty member at both the U and Concordia University.