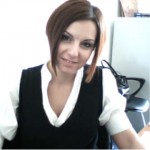 Panayiota Kendeou, associate professor of Psychological Foundations of Education in the Department of Educational Psychology, has been selected to receive an Early Career Impact Award from the Federation of Associations in Behavioral and Brain Sciences (FABBS). The award will be presented to her at the 2015 Society for Text & Discourse Annual Meeting later this year.
Given to FABBS members during their first 10 years post-Ph.D., this award recognizes scientists who have made major contributions to the sciences of mind, brain, and behavior.
According to FABBS's website, "Dr. Kendeou is widely published in the areas of reading comprehension, reading development and conceptual change. She conducts cross-sectional and longitudinal studies with both children and adults, using methods that exhibit an impressive variety and sophistication, including the use of verbal protocols, reading time, and comprehension and cognitive measures."
Kendeou joined the Department of Educational Psychology in 2013 from the Neapolis University Pafos, Cyprus. She is associate editor of the Journal of Educational Psychology and serves on the editorial boards of Scientific Studies of Reading, Contemporary Educational Psychology, Learning and Instruction, Discourse Processes, and Reading Psychology. She is also a member of the European Association of Research in Learning and Instruction (EARLI), the American Educational Research Association (AERA), the Society for Text and Discourse (ST&D), the Society for the Scientific Study of Reading (SSSR), and the Psychonomic Society.