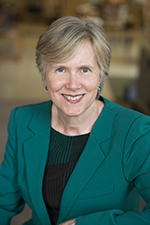 Ann Masten, Ph.D., Regents Professor and Irving B. Harris Professor of Child Development in the Institute of Child Development, is the recipient of a 2018 Smith College Medal, which recognizes extraordinary Smith College alumnae for their professional achievements and outstanding service.
The Smith College Medal was established in 1962 to recognize alumnae who exemplify in their lives and work "the true purpose" of a liberal arts education. More than 200 Smith alumnae have received the award, including journalist and activist Gloria Steinem and U.S. Senator Tammy Baldwin (D-WI). Masten was one of four alumnae to receive the medal this year.
Masten is a leading psychologist who focuses on competence, risk, and resilience in human development, especially in children and families threatened by adversity. The goal of her work is to inform science, practice, and policy around human adaptation and resilience.
Masten will receive the medal during Smith College's Rally Day, which will take place on Feb. 21, 2018.