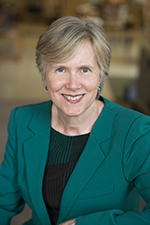 Ann Masten, Ph.D., Regents Professor and Irving B. Harris Professor of Child Development in the Institute of Child Development, leads a massive open online course (MOOC) through Coursera titled, "Resilience in Children Exposed to Trauma, Disaster and War: Global Perspectives." Sessions begin every eight weeks, with participants joining from around the world.
Participants can join this MOOC for free or register for a fee ($49) to earn a Course Certificate.
Beginning this year, participants of the course may qualify for continuing education clock hours through the University of Minnesota. To earn clock hours, a participant must complete the course, earn a Course Certificate from Coursera, and apply for continuing education clock hours through the university. 
Below, Masten discusses the developmental effects of trauma and why now is a critical time to learn about the resilience of individuals and systems around the world.
How does trauma influence development?
Trauma can have profound effects on people at any age. Trauma strains the systems that keep us in balance and it can alter aspects of human interaction at all levels, from the biological level to the societal level.
Why is it important to focus on trauma now?
We live in a world that is threatened by trauma of many different kinds on a scale not seen since World War II. Globally, we face terrorism, war, pandemics, and more frequent natural disasters. There is international interest in resilience because we will continue to experience such catastrophes for the foreseeable future.
What is resilience and how does it help children succeed?
Resilience is the capacity to overcome serious threats to development and go on to lead a successful life. Resilience can also apply to any system, such as a family, the planet or the economy. Resilience of individuals depends on resilience of other systems they interact with. In the case of children, the younger the child is, the more dependent they are on the adults who are caring for them.
How would you describe your course to a potential participant?
This course highlights what we've learned about resilience in the past 50 years. I provide an overview of resilience theories, what we have learned from global studies, exciting new research directions, and how this knowledge is being applied in the real world to promote resilience.
What are the benefits of taking your course?
This MOOC provides a convenient and interesting way to learn about the science of resilience and how it can be applied to help children. It also is an opportunity to discuss resilience issues with a diverse set of professionals working around the world.