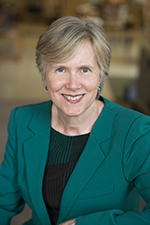 Ann Masten,  Ph.D., Regents Professor and Irving B. Harris Professor of Child Development in the Institute of Child Development, spoke at the 10th Annual Psychology Day at the United Nations (UN) on April 20, 2017.
Psychology Day at the UN is an annual event that highlights how psychological science and practice contribute to the UN agenda. It's attended by UN staff, ambassadors and diplomats, non-governmental organizations, members of the public and private sectors, and other stakeholders.
This year's theme was "Promoting Well-being in the 21st Century: Psychological Contributions for Social, Economic, and Environmental Challenges." The topic was chosen to align with the inclusion of well-being in the 2030 Agenda for Sustainable Development, which was adopted in 2015 and outlines the UN's Sustainable Development Goals. In her remarks, Masten addressed the economic pillar by discussing her research on competence, risk, and resilience in development.