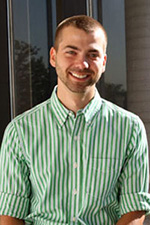 Department of Family Social Science graduate student Christopher Mehus received the 2014 Minnesota Association for Marriage and Family Therapy (MAMFT) Outstanding Student Award at the MAMFT fall conference.
The award is presented to an outstanding Minnesota student in marriage/couple and family studies. Students are nominated by a member of their school's faculty, who can attest to their academic and clinical body of work.
Mehus is a Ph.D. student in the Couple and Family Therapy specialization in Family Social Science.