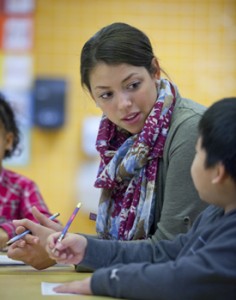 The University of Minnesota's College of Education and Human Development (CEHD) has been awarded the highest standard of accreditation and was recognized for exemplary performance in its partnership with local schools by the National Council for Accreditation of Teacher Education (NCATE).
"NCATE's accreditation renewal for the university, which extends through 2019, recognizes CEHD's high quality preparation of teacher candidates and other school professionals," said CEHD Dean Jean Quam.
"This recognition means a great deal to us and to our teacher candidates," she said. "We voluntarily pursue national accreditation, as it is not a state or national requirement, because we value the assessment of the quality of our programs against a set of very rigorous national standards and by our peers and P-12 school practitioners."
The university recommends Minnesota teaching licensure for about 300 teachers each year, most of whom remain in the state. CEHD works with several school partners in Minnesota to develop highly qualified teachers through its Teacher Education Redesign Initiative (TERI), which is supported by the Bush Foundation's Network for Excellence in Teaching (NExT). One of TERI's hallmarks is collaboration with local districts to prepare teachers focused on reducing disparities in student achievement.
"We have strong clinical programs, and our school district partners rely on us to provide prepared and innovative student teachers," said TERI director Misty Sato. "When we started TERI, we had closing the achievement gap as number one on our list of long-term goals. That includes diversifying our teaching profession and preparing teachers who are more culturally responsive. We are beginning to see results — the diversity of the candidate pool has increased over the past 3 years and employers of CEHD-prepared teachers report on surveys that these teachers effectively teach students from culturally and ethnically diverse backgrounds."
Quam agrees that data collected by the college indicates a positive trend. "We are attracting a very talented pool of teacher candidates," she said. "They are academically strong, many have had international experiences, and they express a long-term commitment to teaching that is focused on equity and student achievement."
NCATE, which is recognized by the U.S. Department of Education as a specialized accrediting body, identified the U of M's field experiences and clinical practice for distinction. All U of M teacher candidates have clinical experiences that include numerous opportunities to design instruction that supports student learning in diverse classrooms, analyze student assessment data, and engage with other school professionals.