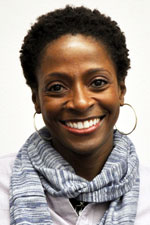 Potential health benefits of yoga were revealed in a pilot study of African American women by Daheia Barr-Anderson, assistant professor in CEHD's School of Kinesiology.
African American women, as a demographic group, have serious health issues, according to Barr-Anderson. "Over 80 percent of us are overweight," she said. "African American women have high rates of diabetes and 40 percent of African American women are hypertensive."
Barr-Anderson, a certified yoga instructor, is introducing more African American women to yoga because of its potential to improve health outcomes, and she is studying the results.
This three-month study took several baseline measures of health in 59 African American women and divided them into an intervention group of 30 and control group of 29. The intervention group attended multiple yoga classes each week for three months; the control group did not.
The data is still being analyzed, but Barr-Anderson is "confident that we will see that yoga helped our participants enact some very powerful changes in their physical and mental health." She noted that some of the most committed participants showed significant changes, including weight loss and improved blood pressure.
Read more about the study in Barr-Anderson's Improving Lives blog post.