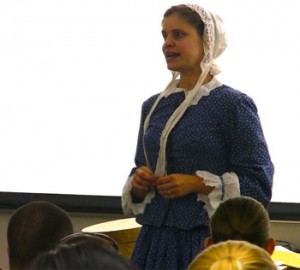 New Common Content courses for CEHD's initial licensure students debuted this summer as part of the Teacher Education Redesign Initiative (TERI).
The new courses were redesigned from "foundation" courses that teacher candidates typically took before clinical work and student teaching. Common Content courses now span two to three terms, so field experience is embedded in each. Teams of faculty across CEHD departments are developing the courses.
Initial licensure teacher candidates gave positive reviews as they completed the first sequence of three of the redesigned courses this summer:
EDHD 5000 Cultures, Schools, and Communities
EDHD 5013 Child and Adolescent Development
EDHD 5015 Teaching Special Needs Students in Inclusive Settings
EDHD 5000 Cultures, Schools, and Communities, for example, is an energetic, student-focused, active-learning experience. On the first day of the class in June, part of the lesson was delivered by Harriet Bishop, Minnesota's first public school teacher (played by historical re-enactor Kathryn McKee, in the photo, from the Minnesota Historical Society). Bishop brought the 150 teacher candidates back to her makeshift classroom of 1847, where her students' languages included English, French, and Ojibwe.
"Teachers are joining a profession with a long history," says Michael Goh, associate professor in the Department of Organizational Leadership, Policy, and Development, part of the team that developed the course. "We ask the questions: Why schools, and why teach? And how can a teacher lead in a culturally diverse classroom? The course reflects what we believe to be the foundational philosophy of teaching and human relations qualities and behaviors that will be the hallmark of teachers who graduate from CEHD."
Learn more on the TERI blog about curriculum redesign and the new Common Content courses.