Li Li Ji, Professor and Director of the School of Kinesiology, recently returned from a 10-day official trip to China, part of a U of M delegation led by President Eric Kaler. Through meetings, events, and meaningful exchanges during the trip, the School has increased its visibility with some of China's most prestigious universities and strengthened collaboration with its counterparts in China. While President Kaler's activities have been extensively covered on University websites, Dr. Ji has provided a report on his experiences traveling with the President related to the School of Kinesiology's mission.
Shanghai Jiao Tong University – 6.28.13
At Shanghai Jiao Tong University (SJTU), I (Li Li) met with Lijuan Mao, Professor and Dean of the Physical Education Department. With its strong programs in human factors and rehab medicine, SJTU will provide collaborative opportunities for the School of Kinesiology's Human Sensorimotor Control Lab and Affordance Perception-Action Lab. Dean Mao has agreed to lead a delegation to visit the U of M in the Fall of 2013, at which time the two schools plan to sign a Memorandum of Agreement (MOA) formalizing their relationship.
Other Initiatives:
The School of Kinesiology hosted two visiting scholars from SJTU last year.
Former U of MN Athletic Director, Joel Maturi, and Department of Recreational Sports Director, Dr. James Turman, lectured at SJTU in March.
Dr. Steve Ross and Dr. Connie Magnuson lectured at SJTU in April.
---
Beijing Sport University – 6.30.2013
Beijing Sport University (BSU) is China's largest and most prestigious institute for higher education in sport, with eight colleges and an enrollment of 11,000. Meredith McQuaid, Associate Vice President and Dean of International studies, Joan Bryzezyinski, China Center Executive Director, and I visited BSU to meet with Vice President Chi Jian. We discussed how to strengthen the collaborative relations between the two universities.
Other Initiatives:
Last year, the School of Kinesiology hosted two BSU undergraduate students sponsored by the China Scholarship Foundation for the academic year.
In June, Associate Director, Rayla Allison led nine students in a two-week study abroad program at BSU.
Vice President Chi expressed an interest in running the famous China Champion Program on the UMN campus for its class of 2013-14, in which Chinese Olympic medalists would study at the School.
---
Tianjin University of Sport  – 7.2.2013
Next, President Kaler and the UMN delegation traveled to Tianjin University of Sport
(TUS) and the affiliated American Cultural Center for Sport (ACCS). Dr. Ken Bartlett, CEHD Associate Dean and a member of the delegation, and I joined the President and Mrs. Kaler in a visit to TUS's history exhibition. The visit reinforced the collaboration between the two universities in the areas of exercise science, sport management, and faculty and student exchanges. Since its establishment in 2011, ACCS has hosted seven Kinesiology faculty members who have lectured on various subjects including sport sociology, sport law, sport management, recreation and leisure, and college athletics.
Other Initiatives:
In 2012, TUS Vice President Zhang Yong and I received a $3 million RMB grant from China Natural Science Foundation to study sarcopenia, age-related muscle loss.
In August, the School of Kinesiology and the U's China Center will host a three-week workshop for TUS administrators on campus.
---
Post-trip reflection
In conclusion, being part of the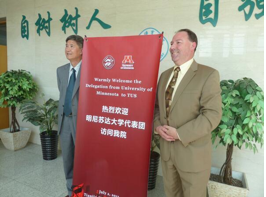 President's delegation was a rewarding and productive experience. We strengthened many relationships with our Chinese partners, and created new ones. The School of Kinesiology looks forward to the research, scholarship, and outreach opportunities that will ensue from these partnerships.  The School's international strategies keep us competitive in a global market, extends our educational outreach, and provide global competency for our students as well as our international guests.