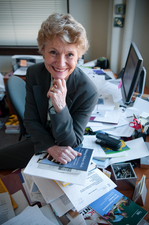 Karen Seashore, the Robert H. Beck Professor of Ideas in Education, has been named Regents Professor by the University Board of Regents. Established in 1965, the Regents Professor designation is the highest level of recognition given to faculty by the University. Seashore is one of only three University faculty awarded this honor in 2010.
"Year after year, Regents Professors represent the best and brightest in their fields, and this year's selections are no exception," said University of Minnesota President Robert Bruininks. "Their bold discoveries and commitment to excellence across a wide range of disciplines embody the mission and aspirations of a world-class research and land-grant university."

The addition of Seashore, from the Department of Organizational Leadership, Policy, and Development (OLPD), along with professors William Iacono (College of Liberal Arts, psychology) and Horace Loh (Medical School, pharmacology) increases the total number of current Regents Professorships at the University to 30.
Seashore is an internationally acclaimed scholar whose research is grounded in social science theory and who is considered to be the most important methodologist in the field of school improvement and school leadership in the last quarter century. Her work on entrepreneurial science is said to have changed the understanding of science and research and is considered to be the gold standard on the subject. She has published 13 books, 17 major monographs, 73 peer-reviewed articles, and 52 chapters.
"I am thrilled that Karen has been named a Regents Professor," said Jean Quam, dean of the College of Education and Human Development. "It is so well deserved. She has won many awards and accolades for her work because she does not back away from difficult issues on teaching children more effectively and understanding the complexity of our educational systems.
"She became a grandmother this week as well as a Regents professor–both of which are significant accomplishments," added Quam on a personal note. "We are very proud of the recognition she brings to her own work as well as to the department and the college."
Seashore has served on many editorial boards and review panels including the National Science Foundation's sections on Sociology and on Ethics and Values in Science and Technology, the National Endowment for the Humanities, and the Spencer Foundation. In addition to serving on numerous university-level committees such as the Faculty Consultative Committee, the Senate Committee on Educational Policy, the Senate Committee on Finance and Planning, and as vice chair of the University Senate, she has served as associate dean for academic affairs in the College of Education, as director of the Center for Applied Research and Educational Improvement, chair of the Department of Educational Policy and Administration, and as director of undergraduate studies in OLPD.