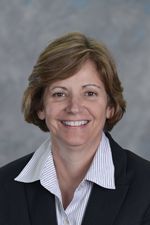 Maria D. Sera, Ph.D., professor and director of undergraduate studies in the Institute of Child Development, contributed to a recent National Academies of Sciences, Engineering, and Medicine report on promoting the educational success of children and youth who are learning English.
Sera served on a National Academies of Sciences, Engineering, and Medicine committee that examined how research on the development of English learners could inform policy and improve educational outcomes. Sera's research focuses on the relation between language and cognitive development and on the learning of second languages by children and adults.
The committee's report, which was released on Feb. 28, highlighted key research, identified effective practices for educators, and made recommendations for how policymakers can support children and youth who are learning English. It looked at two groups of children and youth: dual language learners, or children ages birth to 5 who are learning two languages and are not enrolled in school, and English learners, who are enrolled in the pre-K-12 education system and are learning English as a second language. Most English learners are born in the U.S. and are U.S. citizens.
The report found that English learners, who account for more than 9 percent of K-12 enrollment in the U.S., face barriers to academic success, as schools often do not provide adequate instruction or resources to support acquiring English proficiency. According to the report, early care and education providers, teachers, and administrators do not receive appropriate training to foster desired educational outcomes for children and youth learning English.
The report also discussed capacities and influences on language development, including that children have the capacity to learn two languages from birth if they are given adequate input in each. It noted that speaking to children in a different language at home will not hurt a child's ability to learn English and that having strong skills in a home language can help children learn a second language.
Overall, the report made 10 recommendations to government agencies at all levels to improve educational outcomes. For example, the report recommended that agencies that oversee early care and education programs provide specific evidence-based program guidance for serving dual language learners and their families. The report also recommended that agencies conduct marketing campaigns to provide information about the capacity of children to learn more than one language.
The study was sponsored by the U.S. departments of Education and Health and Human Services, the Foundation for Child Development, the Heising-Simons Foundation, and the McKnight Foundation.