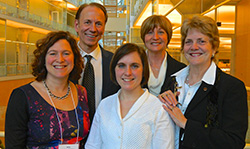 The Shirley G Moore Laboratory School and the Center for Early Education and Development (CEED) collaborated with several other community partners to host Dr. Carolyn Pope Edwards, a Willa Cather Professor in the departments of Psychology and Child, Youth and Family Studies at the University of Nebraska- Lincoln, for a two-day conference on March 7 and 8, 2014.
Dr. Edwards presented two major talks:  Showing that Infant-Toddler Education Works: Lessons from Italy, China, and the United States and  A Dynamic and Evolving Role: Teaching Young Children in Reggio Emilia, Italy.
The event, held at the Hennepin County Central Library in Minneapolis, attracted over one hundred people.