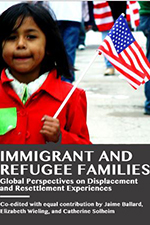 Department of Family Social Science faculty members Cathy Solheim and Liz Wieling, along with FSOS Ph.D. student Jaime Ballard, recently published a breakthrough textbook titled, Immigrant and Refugee Families: Global Perspectives on Displacement and Resettlement Experiences.
While they were preparing to teach "Global Perspectives on Immigrant and Refugee Families," Solheim and Wieling noticed that while there was a wealth of information regarding the immigrant experiences of individuals, very few textbooks focused on immigration experiences as it pertained to the family as a whole.
With the help of Ballard, Solheim and Wieling created a text that discusses current theoretical frameworks and synthesizes current research specific to immigrant and refugee families.
Read the textbook, which is available for free through University of Minnesota Libraries.
Learn more about Solheim, Wieling, and Ballard on their respective profile pages.