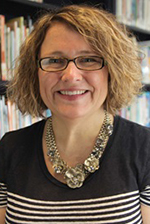 Erica Lembke, chair and professor of the Department of Special Education at the University of Missouri and an alumni of the Department of Educational Psychology's special education program, recently was awarded an Honorary Alumni award by the University of Missouri College of Education.
Lembke, whose research focus centers on measurement, intervention, progress monitoring, and data-based individualization within content areas such as mathematics and writing, has been involved in $4.5 million in federal funding for research and training, has more than 40 publications, and has given more than 150 presentations at local, state and national conferences.
In addition, Lembke is active in her local and regional schools, as she provides support and technical assistance for individual teachers and administrators.
On the national level, Lembke serves as a Senior Technical Advisor for the National Center on Intensive Intervention, which advocates for federal special education technical assistance and policy for all U.S. schools. She is also the current editor of the Journal Assessment for Effective Intervention.
According to one of Lembke's nominators, "I hope to emulate this very talented professor in every way, as she has truly made an impact on my professional development and career. Her unconditional support and tireless efforts to advise and mentor me continue to this day."