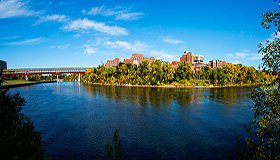 Senior Teaching Specialist Linda Buturian of the Department of Curriculum and Instruction has been awarded a fellowship to become an IonE educator with the University of Minnesota's Institute on the Environment (IonE).
IonE's Faculty Leadership Council selects between three and five educators for a fellowship each year. As an IonE educator, Buturian will work with other educators on a year-long project surrounding sustainability efforts. The project team will "develop curricula related to education, storytelling, art, and creativity which focuses on the Mississippi River, and local and global sustainability issues," says Buturian.
Her team will also "forge connections with CEHD faculty, staff, and students who are addressing, researching, or interested in environmental issues in order to move toward a dialogue about sustainability issues and mission as they relate to respective departments represented in the college," adds Buturian. During her 14-month fellowship, Buturian will have the opportunity to present on her research at the statewide Sustainability Education Summit.
For more information or to become involved with the sustainability project, contact Linda Buturian.
Consider donating to this project or continued projects in the Department of Curriculum and Instruction.