While crowds of eager St. Fair goers flood the streets of St. Paul campus, Erin Baldinger is hard at work preparing for her first year as the new Assistant Professor of Mathematics Education in the STEM Education Center.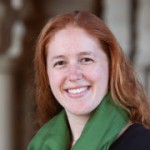 For her first semester as C&I faculty, Erin Baldinger will teach MTHE 5021- Algebraic Structures in School Mathematics and begin researching the role of college-level math content courses in preparing secondary math teachers. Dr. Baldinger will also work with colleagues around investigating supports for novice teachers to engage in high-leverage instructional practices.
Mathematics became a strong interest of Erin's while in high school. During her undergraduate experience at Tufts University Erin was required to complete a wide range of courses but always found herself registering for mathematics classes. Erin graduated with a degree in mathematics and her equal interest in teaching led her to purse a position as a middle school mathematics teacher.
During her three years as a middle school mathematics teacher, Erin began to formulate questions around her experience. This led her to pursue a Ph.D. in mathematics education from Stanford University where she focused on teacher education and preparation in mathematics at the high school level.
Erin is happy to be a part of the STEM Education Center where she can work with her science colleagues to make science, technology, engineering and math accessible for as many students as possible.
"I was actually really excited about the program here and to be a part of the STEM Center that brings those things together and has collaboration and a prominence in the community", says Erin, "I am excited about the partnerships we have with the local schools. The teaching I am already doing involves meeting with students in their classroom where I can see what is happening and we can talk about their experiences back in class."
Her first year goals at the STEM Education Center include connecting with activities in the center, building relationships with colleagues, and getting to know the students. So far her first impressions have been welcoming.
Born and raised in Minnesota, this new chapter in Erin's career is very much a homecoming. Her summer was spent moving back to St. Paul from Arizona where she held her first faculty position at ASU. Along the way, Erin stopped in Santa Fe, Oklahoma City, and Kansas City. She is now settling in and looking to join a klezmer band where she can continue her passion of playing the trombone.
The STEM Education Center is happy to welcome Erin Baldinger to the team and looks forward to her many successes to come!