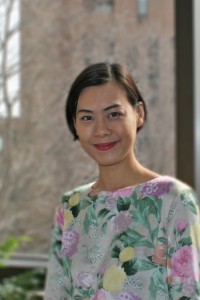 The Department of Family Social Science is hosting Fulbright Scholar Napapat Luedeesunun (Yui) spring semester as she furthers her research on "the role of psychological distress, coping, and social support" among Thai adults. Yui, a Ph.D. candidate in counseling psychology at Assumption University in Bangkok, Thailand, will present her research to the CEHD community on April 30, at 12:00 p.m. in McNeal Hall.
Research Project Title: A Causal Model of Perceived Stigma, Professional Help Seeking Attitudes, and Intentions Among Thai Adults: The Role of Psychological Distress, Coping, and Social Support
Yui decided to pursue research focused on understanding contributing factors to the under-utilization of professional therapy among Thai adults, out of her own personal curiosity and also to bring greater attention to the problem so professionals in the field of counseling, and those who may be hesitant to enter the field, will see the need to have a greater impact on the people struggling in their communities.
Yui has observed many Thai people using ineffective methods for dealing with stress, therapy often being a last resort in part due to a shortage of providers, as well as a lack of understanding of its benefits. Her goal not only includes finding ways to alleviate the stigma associated with therapy, but also increasing the number of individuals involved with providing professional therapy. With a background in marketing and advertising, Yui believes that communication plays an important role in altering negative perceptions about counseling and therapy.
After meeting Department of Family Social Science professor Catherine Solheim during one of her visits to Thailand, Yui decided to come to the University of Minnesota to work on her dissertation. "It was such a perfect fit," Yui explained, "given her knowledge of Thailand as a country, the people and the culture, not to mention her amazing spoken language. Plus the University of Minnesota is such a great university (including) the faculty and the reputation for research. I really have to thank her and the Department of Family Social Science to have accepted to host me during my time here. It's been such an amazing experience."
You're invited to attend Yui's presentation on April 30. She will discuss her research and answer questions from the audience. Refreshments will be provided, so we request your RSVP.