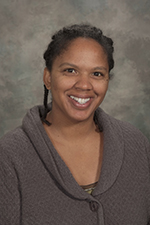 Sheila Williams Ridge, M.A., director of the Shirley G. Moore Lab School in the Institute of Child Development, received the 2016 Director's Award from the North American Association for Environmental Education (NAAEE).
NAAEE is a membership organization that aims to accelerate environmental literacy and civic engagement through education. The Director's Award recognizes an individual or organization that has made a significant contribution to the field of environmental education.
Williams Ridge was recognized for her work chairing the 2016 Nature-based Preschool Conference, the annual conference of NAAEE's early childhood environmental education initiative, the Natural Start Alliance.
In addition, Williams-Ridge is on the advisory team for the Natural Start Alliance and the National Science Foundation-funded Science of Nature-Based Learning Collaborative Research Network. She also serves on the leadership team for the Council of Nature and Forest Preschools.