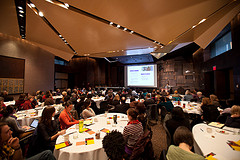 The LT Media Lab (LTML), University Extension Center for Youth Development (CYD), and Youthprise welcomed Dr. Nichole Pinkard for the Inquiry to Impact Symposium on Oct. 28. Pinkard's presentation, "Digital Youth Network: Developing 21st Century Learners Through the Integration of Overlapping Affinity Spaces," addressed two programs that she co-founded in Chicago geared towards fostering digital literacies in teens–the Digital Youth Network and YOUmedia.
Following the presentation, a panel discussion, moderated by Joyce Walker (CYD), was held with panelists representing stakeholders from both formal and non-formal learning spaces interested in youth and media production. The panelists included Pinkard, Cynthia Lewis (Curriculum and Instruction), Cassie Scharber (LTML), Kevin Kalla (Saint Paul Neighborhood Network), and Mercedes Thomas (The Learning Branch). Youth workers, teachers, and researchers from around the Twin Cities joined the symposium, providing the groundwork for increased communication and potential collaborations between schools and youth programs.
See images of the event here.