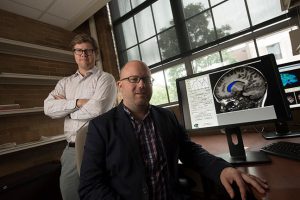 Jason Wolff, assistant professor in the Department of Educational Psychology's special education program, was recently featured in a Spectrum article about his research using magnetic resonance imaging (MRI) in infants whose older siblings have autism. Wolff worked with a national team of researchers, including Jed Elison from the Institute for Child Development, on the study. Wolff and colleagues found that the development of specific brain circuits may predict the severity of repetitive and sensory behaviors in infants who later develop autism.
In the article, Spectrum explains, "repetitive behaviors, such as hand flapping, are a cardinal sign of autism", and "children with these severe repetitive behaviors often also have unusual sensory features, such as sensitivities to sounds or textures or an insensitivity to pain."
Wolff expands on this. "They both (repetitive behaviors and unusual sensory features) seem to share a similar relationship with underlying neural circuitry," he says.