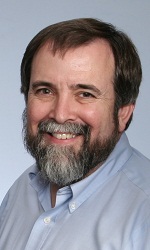 Eugene Roehlkepartain, a Ph.D. candidate in the Department of Curriculum and Instruction's Family, Youth and Community track, was recently awarded the Kappa Omicron Nu Marjorie M. Brown Fellowship Award to support his doctoral research. With support of his doctoral advisor, Yvonne Gentzler, Mr. Roehlkepartain will continue Brown's philosophical work using critical social theory, demonstrating understanding of Brown's Philosophical Studies and other recent pieces of work and of their ongoing significance for the human sciences.
Roehlkepartain will examine how interactions between families and communities build on relational strengths within diverse families to contribute to young people's education and well-being. He will also examine how these strengths ameliorate negative effects of stressful life events. In doing so, his research will advance understanding of the strengths and challenges of families while also examining how their engagement with community enriches family life.
Roehlkepartain is Vice President of Research and Development at Search Institute, an international nonprofit organization that provides research, consulting, and other services focused on what kids need to succeed in their families, schools, and communities. Roehlkepartain speaks and leads workshops on positive youth development, family strengths and engagement, and community engagement.
Among his research interests are exploring the ecology of youth and family development, and examining the ways in which community relationships, programs, and institutions contribute to thriving in childhood and adolescence. He is also engaged in new research on examining the developmental relationships that occur in families, schools, programs, and communities that are foundational for developing the life skills that are essential for young people thriving in education, work, and civic life.
For more information on Roehlkepartain, please visit the Search Institute's website.