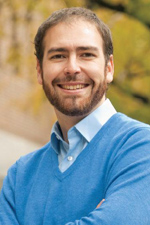 FSoS doctoral candidate Diego Garcia-Huidobro has been named as a finalist in the inaugural CEHD Three Minute Thesis competition. Garcia-Huidobro is one of eight finalists, and the only finalist from FSoS.
Garcia-Huidobro will be competing for $500. The runner up and the people's choice will receive prizes of $250 respectively.
Despite this being the first year that CEHD is participating in 3MT, over 200 universities across the world participate annually. The competition is intended to develop presentation, research, and academic communication skills, and to help students explain their work effectively to a general audience with no background in their field of study.
Judges for the CEHD competition are Dr. Keith Mayes, CLA professor; R.T. Rybak, former Minneapolis mayor and current executive director of Generation Next; and Margie Soran, executive director of the Soran Foundation.
The Three Minute Thesis competition will be held on Tuesday, March 22, 2016, from 10:00 to 11:00 AM, in the McNamara Alumni Center Heritage Gallery as part of CEHD Research Day.