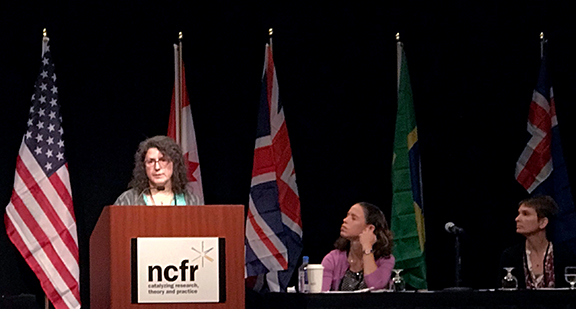 The hashtag #UMNProud was a presence  at the National Council on Family Relations' annual conference in Orlando in November.
Current students (26), faculty and research associates (13) and alumni (25, including a professor emerita) from the Department of Family Social Science and the University of Minnesota made presentations, moderated panels, and led special sections dialogues, as well as discussed their research in poster sessions across the four days of the national meeting.
Their topics spanned the growing range of family social science research – from transgender youth and young adults in context, to familial and neighborhood influences on obesity, to military service and its impact on families.  The Department of Family Social Science is among the national leaders advancing theory and practice to improve the well-being of diverse families.
In addition, grad student Samantha LeBouef was publicly recognized for her national Student Proposal Award in the Education and Enrichment Section for a paper she presented at the conference.
The University of Minnesota was also among 18 institutions promoting their family social science departments to potential grad students during University Receptions Thursday evening.
Here's a selection of graduate student presentations, posters and papers:
Molly White Bailey, Anti-racists Identity Development – poster;
Natasha Bell, Children and Finances in Divorce Decision-making – poster;
Gretchen Buchanan, Conceptualization of What Constitutes a Strong Family – poster;
Sarah Burcher, Work or Family? A hermeneutic phenomenology qualitative meaning and value of employment from the perspective of low-income women – presentation;
Daniel Cooper, Examining Strength and Resilience with Resettled Liberian Refugee Families, presentation; and Examining biracial identity development: Key concepts and assumptions – poster;
Lekie Dwanyen, Examining Strength and Resilience with Resettled Liberian Refugee Families – presentation;
Renada Goldberg, Using CPBR in Policy Analysis: Assessing Paid Sick Leave and African Americans – poster;
Heather Hessel, Different Paths: Comparing College-Going and Non-college Youth – poster;
Emily Jordan, Barriers to Rural Mental Health Care: Clinicians' Perspectives – presentation;
Angela Keyzers, Sensation-seeking and Emerging Adult Online Risk Behavior – presentation;
Samantha LeBouef, Near, Far, Wherever you are: Siblings and Social Media Communication – paper;
Sun-Kyung Lee, Well-Being of Emerging Adults: How Family and Friends Matter – poster;
Na Zhang, Relationships between mindfulness facets and observed anger expression: An actor partner interdependence analysis with post-deployed military families – poster;
Jingchen Zhang, Effects of a military parenting program: Inhibitory control as a moderator – poster.
About the conference
The NCFR's annual conference attracts more than 1,000 scholars and practitioners from across the globe with the goal to highlight research, feature evidence-based best practices and critically examine policies that impact families and communities.