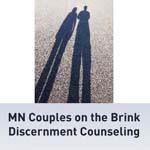 Minnesota Couples on the Brink project launched an online training video for therapists interested in Discernment Therapy. Department of Family Social Science professor Bill Doherty coined the phrase "discernment therapy" for couples that are at a crossroads in their relationship and need help "discerning" the pros and cons of their options.
Professor Doherty and discernment therapy are referenced in the article on Syracuse University's blog "When does a relationship become bad enough to leave?"
The Couples on the Brink project also launched a Discernment Counseling Directory for people seeking relationship counseling from a trained therapist outside of Minnesota. Currently therapists are available in over ten different states.