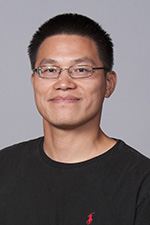 School of Kinesiology associate professor Zan Gao, Ph.D., has written an article on his work related to the positive health outcomes of fitness technology and exergaming on the CEHD Vision 2020 blog.
His research shows that replacing younger students' "screen time" on tablets or computers with apps for exercise games can be as effective as physical education classes.
Gao emphasizes that exercise games on the computer do not replace time playing outside or the traditional physical education curriculum. Instead, he says, "we hope that active, fitness-oriented apps and games can replace sedentary time young people spend using tablets, watching television or playing traditional games – not physical activities like sports, biking or outside play."
"Exercise games are not just a fad," says Gao,  "and can be part of our approach to capturing the attention of students who are not drawn to athletics and physical education."
Gao is director of the School's Physical Activity Epidemiology Laboratory.