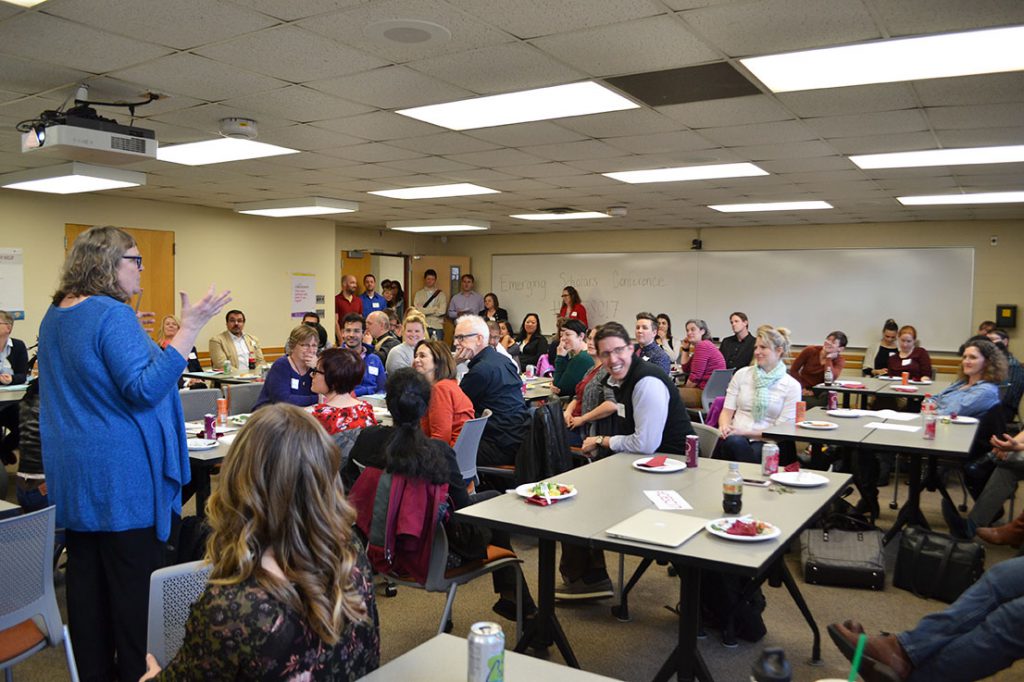 On April 7, the first annual C&I Emerging Scholars Conference was held in Peik Hall to recognize undergraduate and graduate students engaged in projects and research. Organized by the C&I Graduate Student Association (CIGSA) this conference (formerly named C&I Research Day) was reimagined this year in a conference format to highlight the research scholarship of students. The theme for the conference was "examine everything" based on a call to action from our Department Head, Dr. Cynthia Lewis in the Fall to "denounce supremacy, confront hatred, and build socially just classrooms and communities".
The event kicked off with a keynote from Maria Asp of the Children's Theatre Company's Neighborhood Bridges Program. Asp led the group through a critical literacy activity that allowed participants to examine a story from different perspective. After the keynote over 60 C&I students presented their work through paper, roundtable, and poster presentations. The day culminated with an ice cream social in the C&I Children's Literature Library.
Special thanks to the organizers, Tracy Leitl, Sara Sterner, Lana Peterson, Dan Bordwell, Jeanna Wieselmann, Jeff Henning-Smith, and Ryan Oto, who serve as CIGSA leadership. To see highlights from the event search#ciesc17 on twitter.
C&I students are encouraged to get involved by serving on the planning committee for next year by emailing cigsa@umn.edu.